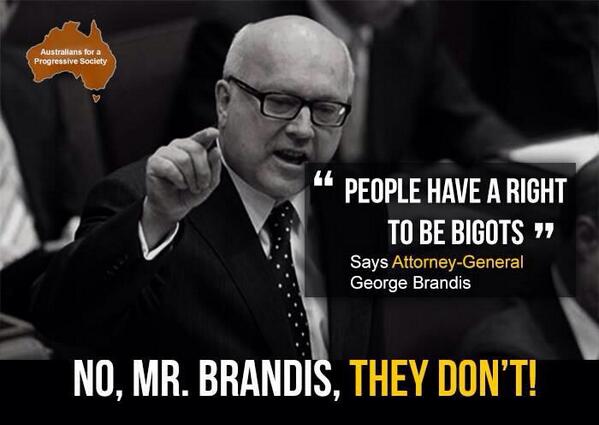 The Coalition promised before the 2013 election to repeal section 18C of the Racial Discrimination Act in its current form, but indigenous Liberal MP Ken Wyatt has threatened to cross the floor to oppose the change.
Senator Brandis told the Senate on Monday he would soon be bringing forward an amendment that would ensure the Bolt case would never be repeated.
Never again in Australia will we have a situation in which a person may be taken to court for expressing a political opinion, Senator Brandis said in response to a question from indigenous Labor Senator Nova Peris.
Senator Brandis said the problem with the current law was that it dealt with racial vilification in the wrong way by political censorship.
People do have a right to be bigots, you know, Senator Brandis said.
"People have the right to say things that other people would find insulting, offensive or bigoted."
Asked in the House of Representatives about Senator Brandis' comments, Prime Minister Tony Abbott said it was in the nature of free speech that sometimes some people will not like it.
Reference: http://www.smh.com.au/federal-politics/political-news/attorneygeneral-george-brandis-people-do-have-a-right-to-be-bigots-20140324-35dj3.html